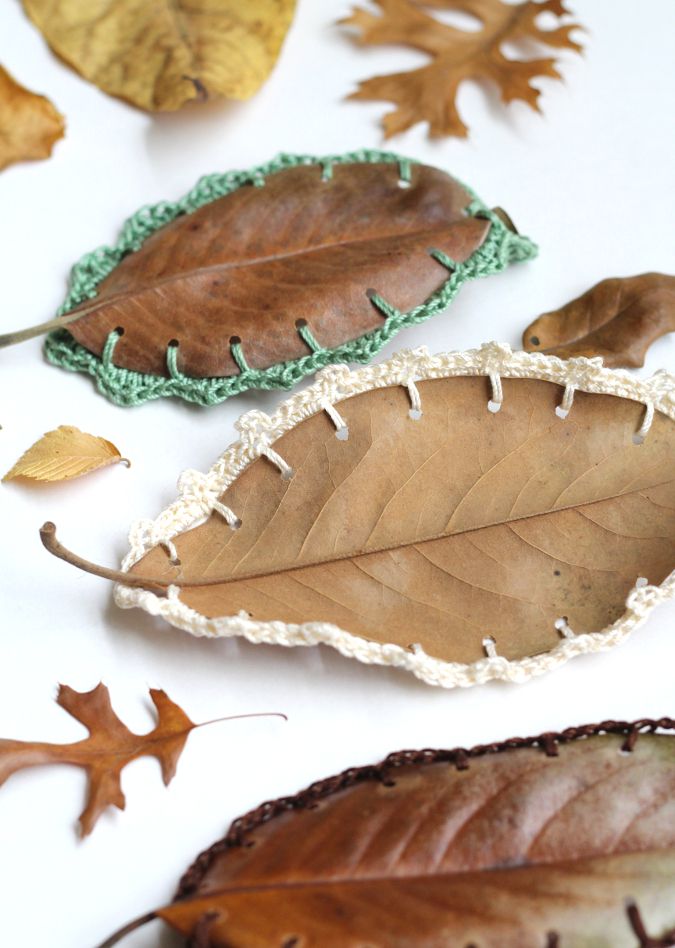 Happy Friday! I am so excited to finally share this project with you! Lately, when I go for a walk in the evenings, I find myself picking up a few fallen leaves that are particularly colorful or interesting looking. Texas isn't exactly known for its beautiful fall season (See also: the very brown leaves above) but I'll take what I can get!
One of the leaves I collected was a large magnolia leaf. It is surprisingly sturdy for a dead leaf and it gave me an idea. I remember seeing Susanna Bauer's beautiful fiber art several years ago and being in awe of the intricacy of her pieces. So incredible. I wondered if I could apply some of my own crochet edging to a leaf, similarly to how I have crocheted on paper in the past. Shock of all shocks…it actually worked! So, I stealthily went back to the one magnolia tree in my neighborhood and scooped up as many leaves I as I could. I'm not going to lie…my heart was pounding pretty hard as I "stole" these leaves. Haha. Yes…I am a chicken. I was so worried someone would come up and say, "What are you doing?" and I would start stammering, "Well…I…uh…you see…I'm crocheting on these leaves…and I yeah…"
Anyway, the great leaf theft went off without a hitch and resulted in some lovely crochet leaves! Here's how I did it if you would like to give it a try. The decorative possibilities are endless with these beauties!
Materials:
– Magnolia leaves
– Aunt Lydia's crochet thread
– D/3-3.25 mm crochet hook
– Small hole punch
– Pencil
– Scissors
– Tapestry needle
Additional Supplies:
– A twig…from nature. Haha.
– Thread/yarn for hanging leaves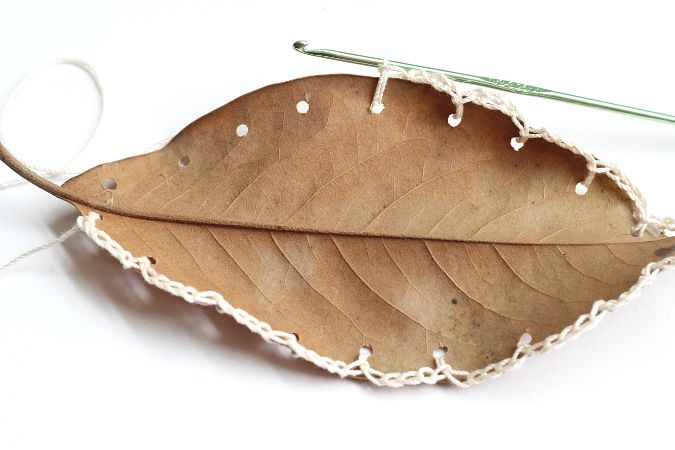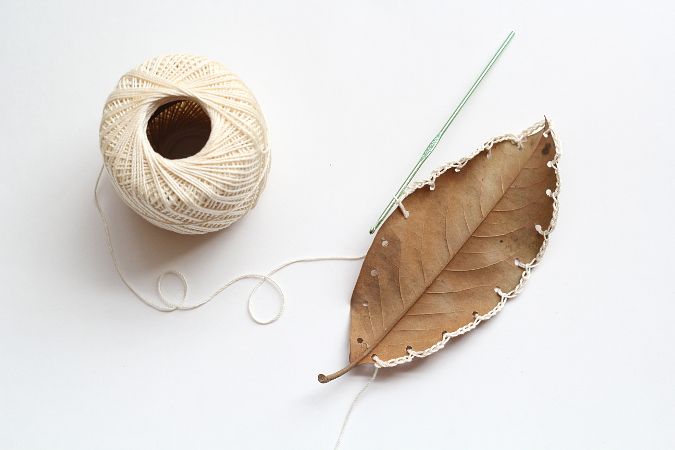 Crochet Leaves
1. Use the pencil to evenly mark dots around the edge of the leaf. This is where you will punch the holes. I tried to keep the holes (BLANK inches) away from the edge and (BLANK Inches apart)
2. Carefully use the hole punch to punch out holes all the way around the leaf.
3. Using the crochet thread, make a slip knot on your crochet hook. Slip stitch in the first hole to the right of the stem. Chain 4 (or 3 or 5…depending on the spacing of your holes) and sl st in the next space.
4. Continue all the way around the leaf until you reach the first sl st. Join with a sl st.
5. If you made it all the way around without tearing your leaf…gently set the leaf on the table…stand up…and do your best happy dance!! Or maybe just take a deep breath if that was super stressful for you. Haha. I think the leaves look great with even just one row of crochet around the edge! If you are feeling adventurous, here are the other two edges I tried…
Scallop Edge:
1. Starting in the first ch 4 space, *sc, hdc, dc, hdc, sc, sl st in the sl st space and repeat from * around.
2. Join with a sl st, bind off, and weave in the ends.
Picot Edge:
1. Starting in the first ch 4 space, * 4 sc, ch 3, sl st in the same st and repeat from * around.
2. Join with a sl st, bind off, and weave in the ends.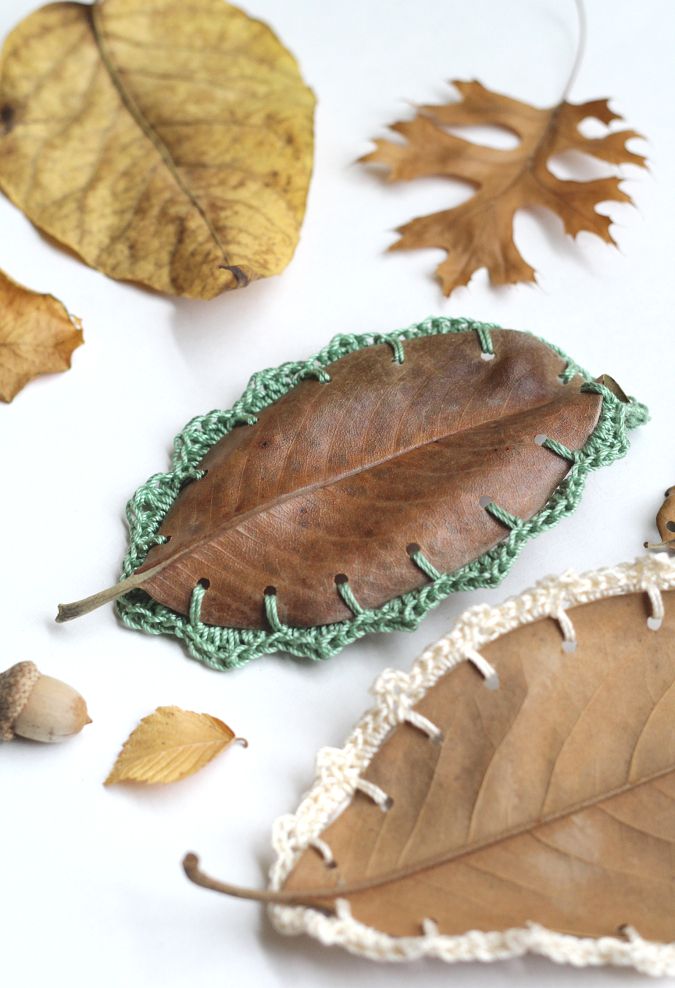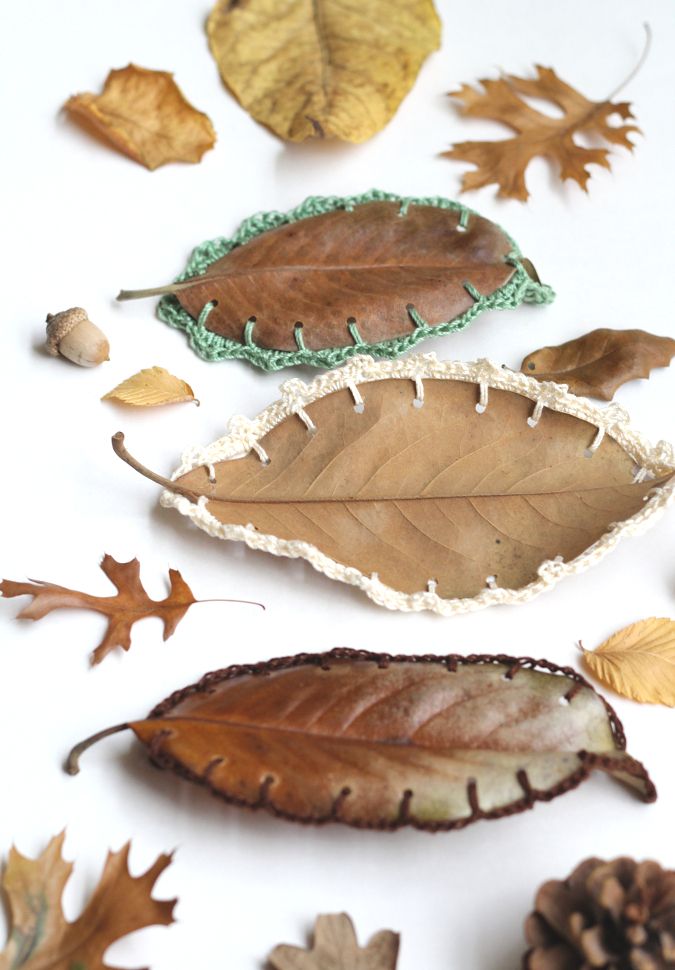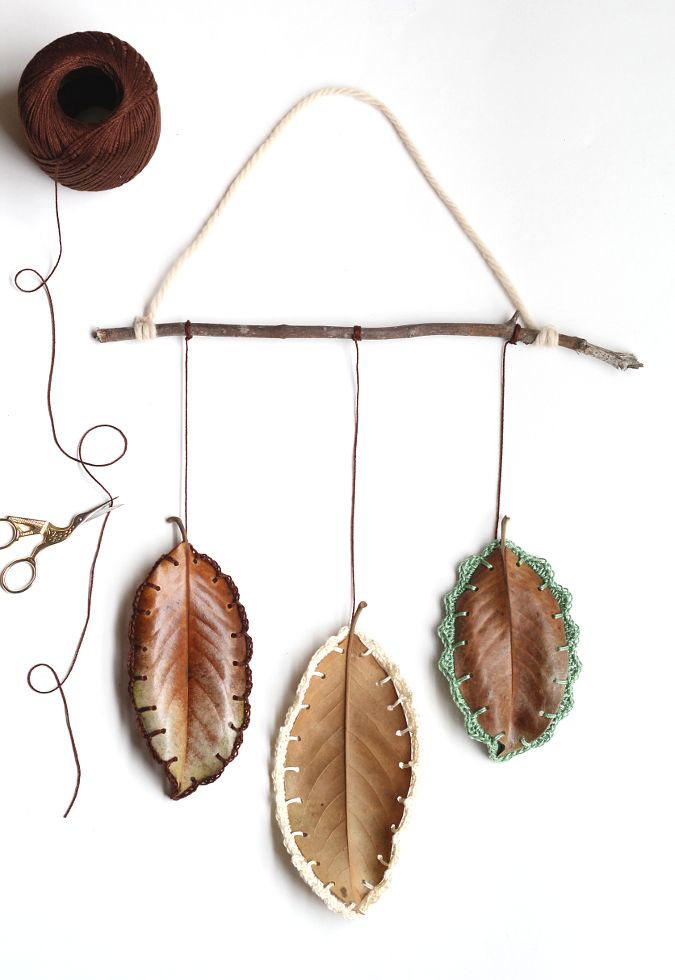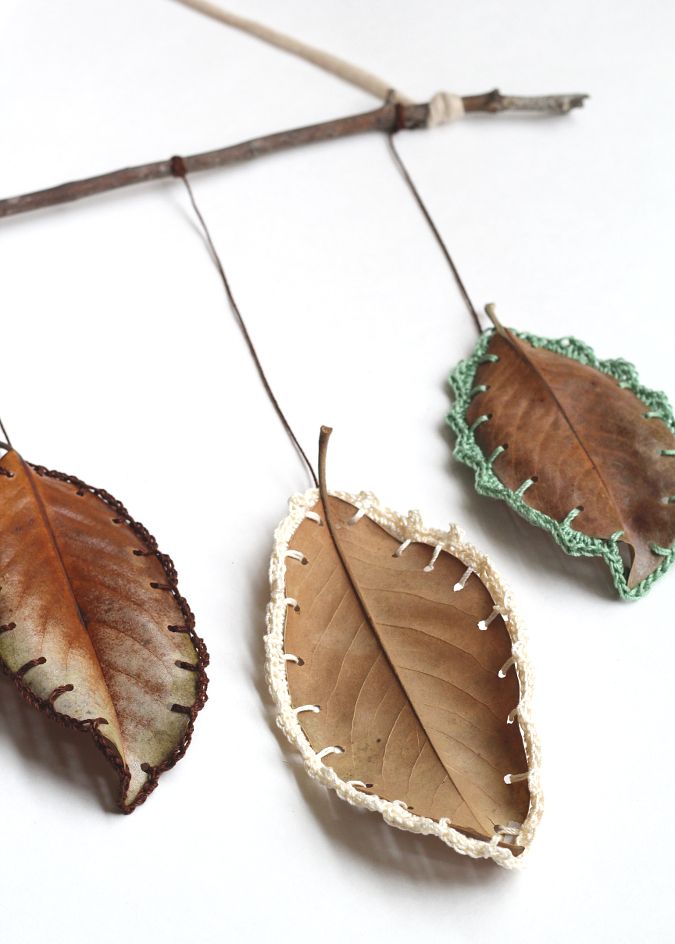 I turned these leaves into a fall wall hanging! I used crochet thread to tie the leave to the twig and a chunkier yarn for it to hang from. I love how it turned out! So simple and beautiful. Use these leaves for gift wrapping, make a beautiful fall centerpiece, or string several together and hang a garland over your mantle! I can't wait to see what you create! Please tag me on Instagram and Twitter if you give this a try!
Also, I made a new batch of tech wallpapers for this month! I hope you enjoy them! Let me know if you use them, too.
Download them here:
Have a wonderful weekend, friends! Do you have any fun, fall plans?